Family Outdoor Movie Nights
Due to Covid 19, the SWANK Motion Pictures, Inc. has granted all their public library movie license holders the opportunity to show certain movie outdoors free of charge until July 1st, 2022. Hanston City Library has taken advantage of this to hold family friendly movies on Saturday nights whenever possible. The library purchased a projector and movie screen which is set up on the Northside of the library building for each movie. Patrons can bring their own folding chairs or blankets, sit back and relax with family and friends and enjoy a movie under the stars. Movies will start around dark, with times varying as the year goes on. The upcoming movie will be posted in the front window of the library and down below on this website.
Hodgeman County Economic Development has also graciously provided the library with a sound system, popcorn machine, popcorn making supplies, and bottled water for each movie.  Popcorn is made fresh for each movie and is provided for free along with bottled water to patrons of the movie while supplies last.
UPCOMING OUTDOOR MOVIES
October 30th – DOUBLE FEATURE – Halloweentown (NR) & Practical Magic (PG-13)
Halloweentown – Marnie and her kids get a big shock when they follow grandma home to Halloweentown – and find out they come from a family of witches. The town is the only place where supernatural beings can lead a `normal' life, but trouble is looming, and on her 13th birthday Marnie not only finds she is a witch, but that she and her family are involved in a fight against the evil that is threatening to take over the world.
Click on the picture to watch a trailer for the movie!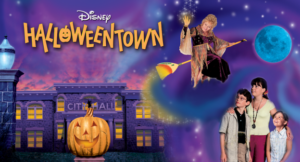 Practical Magic – Sally (Sandra Bullock) and Gillian Owens (Nicole Kidman), born into a magical family, have mostly avoided witchcraft themselves. But when Gillian's vicious boyfriend, Jimmy Angelov (Goran Visnjic), dies unexpectedly, the Owens sisters give themselves a crash course in hard magic. With policeman Gary Hallet (Aidan Quinn) growing suspicious, the girls struggle to resurrect Angelov — and unwittingly inject his corpse with an evil spirit that threatens to end their family line.
Click on the picture to watch a trailer for the movie!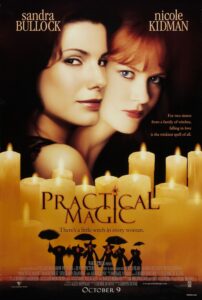 We hope to see you there!
Collection of Materials
The Hanston City Library has over 2000 children's, juvenile and young adult books and over 3000 adult books including both fiction and non-fiction. The library has an extensive collection of Inspirational Fiction as well as other genres. Children, juveniles, and young adults will find most of our books are part of the AR program.
A patron computer is available along with a phone, printer, copier, and a fax. (fees may apply)
Loan Periods
All materials are loaned for a two-week period.
Renewal Policy
2 additional weeks for all materials unless there is a waiting list.
Home Delivery and Curbside Delivery
Home delivery is available if necessary and feasible. Curbside delivery can also be arranged.  Please call the library to make an arrangements.